Zune Music Player Data Recovery
Data Recovery Software for Zune Music Player provides cutting edge technology for easy retrieval of all deleted music files from Microsoft Zune music players. Software quickly rescue audio/video songs files and digital picture folders lost due to improper handling of zune digital music player and corrupted or formatted zune drives. Software similar recovers digital pictures, animated files, images, video clips accidently deleted or erased from logically or maliciously damaged portable music players or during zune-to-zune wireless connectivity.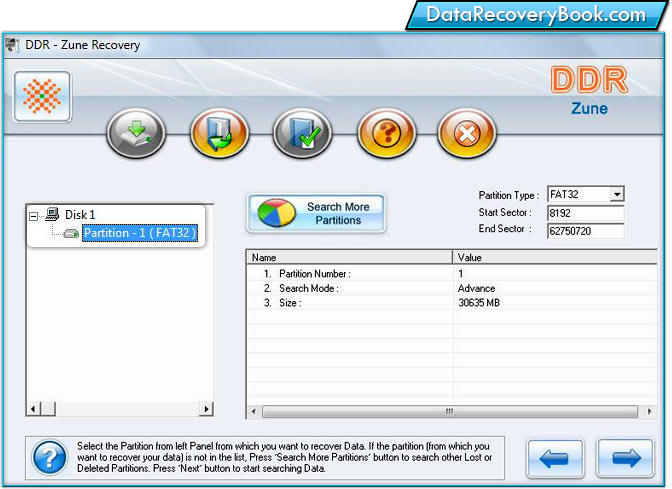 Digital song recovery software supports all Microsoft zune music player version including Zune 4, Zune 8, Zune 16, Zune 80, and Zune 120. Music regaining utility runs smoothly on all Windows OS versions including Windows XP and Windows Vista, thus a prominent and reliable utility for all Windows users.
Common data loss scenarios:
Accidental/Intentional data deletion.
Unable to operate zune music player.
Formatted/ Re-formatted Zune data drives.
Frozen zune players.
Error messages when zune player connected to PC.
Hardware malfunction or when zune player automatically restarts.
Supported file formats:
For audio: mp3, aac, mp4, m4a, m4b, wma;
For video: MPEG4 (in .mp4, .m4v and .mov containers), H.264 (in .mp4, .m4v and .mov containers), wmv, asf;
For still images: jpg
Advantages of Using Software:
Software easily works with all Zune music player versions that include Zune 4, Zune 8, Zune 16, Zune 80, Zune 120 and other Microsoft music players of flexible memory capacities.
Extremely stylish and user-friendly graphical interface that helps user to get easily familiarize with the software.
It is very easy to install and run the software on all windows platforms.
Software is completely professional, simple to work and profitable tool for all Zune music player users.
No expert knowledge or complex learning needed to work with the software.
Available at $45