Sim Card Data Recovery
Data Recovery Software for Sim Card is technically designed to recover deleted read or unread text messages and stored contact details from mobile phone sim cards. Software provides easy restoration of saved SMS (inbox, outbox and draft) and erased phone book contact numbers including (dialed number or fixed number) with date and time from cell phone sim cards. Sim card recovery utility even provides full detail information like Sim card Service provider name, Location, IMSI number and ICC-ID identification number printed inside cell phone sim card chip.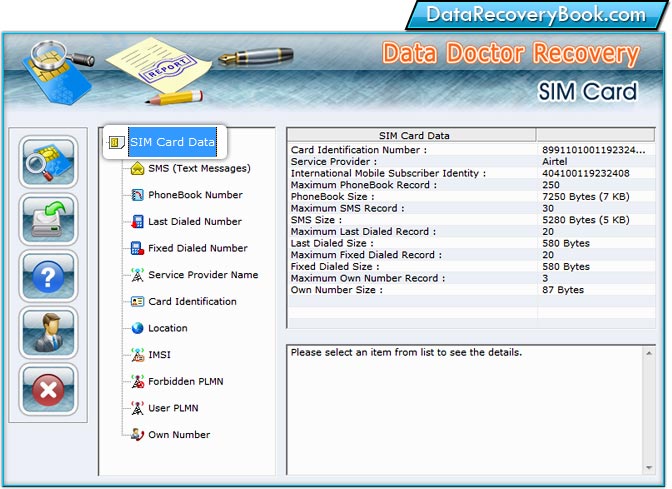 Sim card retrieval software rescue data deleted or damaged due to virus corrupted cell phone or accidentally erased phone book memory when connected to user`s computer PCs. Program also provides recovery of data even when sim card is not detected by mobile phones or from corrupted mobile phone sim cards. Card recovery software easily works with all GSM sim card of any service provider network (national and international).
Common data loss scenarios:
Accidently deleted or purposely erased data from sim cards.
Virus corrupted sim cards.
Software/ Hardware fault.
Improper handling of mobile phones.
Advantages of Using Software:
Display full details of user's mobile phone sim card memory including service provider name, IMSI number and ICC-ID identification number with location of sim card service network.
Provide detailed information of mobile sim card deleted entries such as all lost text messages and missing phone book contact numbers, names with date and time.
Generate report, which allows users to view date and sending time of text messages (SMS).
Support sim card of any country/network/location service provider.
Software is read only and non-destructive tool easily understandable by both technical and non-technical users.
Supports all PC/SC standards or Phoenix standard sim card reader used to connect the sim card with your computer
NOTE: Please remember that you need USB SIM Card reader (any PC/SC Standards or Phoenix Standards based Reader) to use our software to recover data from sim card. If you are not able to find any compatible SIM card reader, Please feel free to contact us to get the information of manufacturers, who can make it available to you in very short time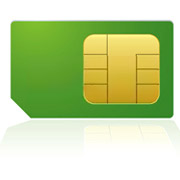 Available at $69