NTFS Data Recovery
Data Recovery Software for NTFS provides recovery of all deleted, lost, erased, missing files and folders from Windows NTFS file partitioned hard disk drives. Software retrieves user's valuable data quickly and safely after damaged partitioned table, virus corrupted root directory, damaged MFT, MBR or DBR files, inaccessible boot sectors and other undesirable incidents that leads to data loss. Advanced utility provides easy recovery of all digital pictures, photos, images, audio-video songs, text files and other important documents from inaccessible and undetectable hard disk mass storage devices.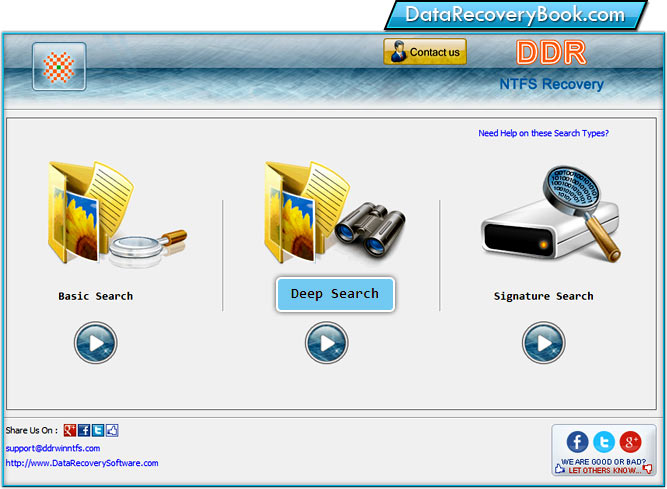 Easy to use file rescue program supports NTFS and NTFS5 partitioned file systems for all standard hard disks like SATA, ATA, SCSI, IDE and EIDE. Software even works smoothly with all major hard disk brands including Samsung, Sony, Olympus, Maxtor, Western Digital, IBM, Dell, Fujitsu, Quantum, HP etc. Data recovery program is economical and cost effective utility that provides in-built step-by-step data recovery help for users to have an easy working with software.

Common data loss scenarios:
Computer virus.
Human fault
OS failure
Corrupted boot sectors.
Damaged MFT/MBR/DBR files.
Improper system shutdown or restart automatically.
Power sabotage and other similar incidents.
Computer error messages like "invalid command", "cannot find program", "disk error", "primary/secondary hard disk failure".
Supported file formats:
Image files: tiff, png, bmp, gif, jpg, tif etc.
Video files: asf, 3gp, avi, mpeg, mov, wmv etc.
Audio files: midi, mp3, aac, mpa, ram etc.
Text files: txt, doc, dbt, docx, dvi etc.
Advantages of Using Software:
Support data recovery on all popular and commonly used hard disk drives like IDE, ATA, SCSI, IDE and EIDE or other similar drives.
Software uses enhanced data scanning method for recovering every bit of data from corrupted hard disk mass storage drives.
Support all major hard disk brands like Sony, Samsung, Maxtor, Toshiba, Olympus, Western Digital, Hitachi, Dell, Nikimi, Quantum, HP, IBM and many more of all high capacity.
Friendly graphical user interface makes the recovery process fast and easy for both technical and non-technical persons.
Software is cost-effective, simple and easy to use for all Windows OS users.
Available at $69