Website Monitoring Tool
Website Monitoring Tool is technically designed to keep you informed about the real time status of multiple websites and measures their performance. Website activity monitoring software checks the ping status, uptime status and down time status of any website and web server applications in real time. Website traffic monitoring software checks multiple websites status on different internet services including HTTP, HTTPS, SMTP, POP3 and FTP server protocols.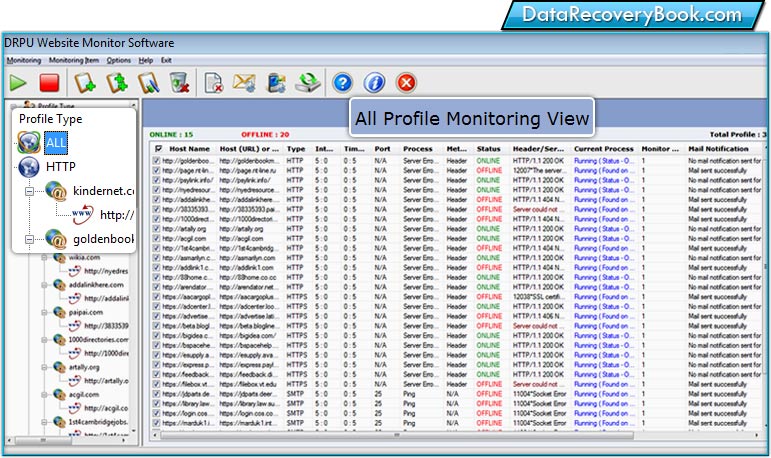 Website performance tracking software notifies users regularly via beep sound, emails or runs a specific program when your site is inaccessible, unavailable, respond very slow or is down due to error messages including "host not found", "low bandwidth", "connection failed", "low connectivity network status" etc. Website monitoring tool provides best and easy way for Webmaster and the Website owners who regularly checks the status of website and determines how well a website responds to browser requests.
Advantages of Using Software:
Monitors the real time status of websites that includes Ping status, Uptime status and Down Time status of any websites and web-based applications.
Immediately alert you by sending e-mails notification beep sound or runs specific program in case of inaccessibility or offline status of websites.
Alerts user during the non-availability of website or when website is down due to various error messages including Server not found, Network problem, Host not found, Low connectivity etc.
Software supports all popular internet services including FTP, SMTP, HTTP, POP3 and HTTPS protocols.
Software has impressive user-friendly GUI interface with professional working that helps in easy understanding and working with website monitoring program.
Easy to use inexpensive utility and no technical knowledge or any scripting needed to operate the software, thus non-IT users can easily operate the program without any guidance.