Advance Keylogger
Advance Keylogger Software is new edition with enhanced functionality and security features as compare to Keyloggersoftware.Advanced surveillance utility records voice chat conversations, clipboard contents, accessed application details, modification in system time and captures screenshots at regular time interval. PC monitoring software records every keyboard typed keystrokes that includes Online Chat details of AOL, Yahoo, GTalk, MSN etc, Emails send or received (Yahoomail, Gmail, Rediffmail, Hotmail etc), Logins/Passwords, Visited Web pages, typed URL`s.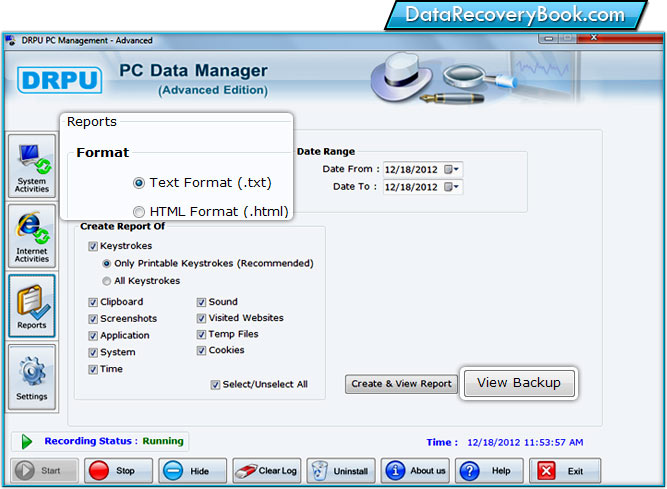 Advance Keylogger Software runs invisible in background and starts monitoring automatically in hidden mode when Windows starts to keep on recording the entire external user PC activities in your absence. Software remains hidden in Software Installation files, Start Menu or Add/Remove program list providing user no knowledge of key logger installation. Keystroke monitoring application is helpful for Company managers in tracing and controlling the employees' non-productive computer activities during office time. Software also monitors the internet and PC activities of kids while their parents are away from Home.

Hidden keystroke recorder utility is password protected that preventing any modification in encrypted log files or key logger software settings. Software facilitates mailing of all the recorded log files at user defined email account or option to upload log file using FTP server settings.
Advantage of using Advanced Keylogger:
Software records all typed keystrokes, voice chat conversations, clipboard contents and captures Windows screenshots periodically at regular interval of time.
Help business organizations in monitoring the employees online and offline activities in Company during office hours.
Enable parents to prevent their children from misusing the internet and controlling the notorious PC activities of the kids.
Software keeps running in stealth mode with password-protected feature, thus no one other than administrator can login the software.
Prepares encrypted log file of all the recorded activities with option to mail details to user specified email account or upload log details using FTP server settings.
Attractive user-friendly graphical interface helps you in easy working with software and easily overrides by most of the anti-keylogging programs.